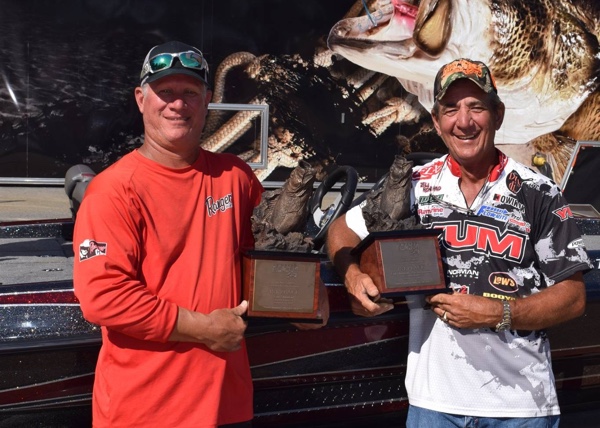 LAKE SAM RAYBURN, TX "Fall Shootout" – Bobby Vice of Groves, TX caught a 9.27 pounder to top a field of 795 amateur anglers in the first Sealy Outdoors Big Bass Splash "Fall Shootout" held October 1 & 2 on Lake Sam Rayburn; Jasper, Texas. $160,000 Guaranteed in Cash and Prizes was up for grabs with 10 hourly places being paid each hour of the two-day event. Vice brought his big bass in during the 1-2 pm hour on Saturday. Leading the tournament on Day 1, he decided to stay one more day and fish on Sunday while waiting to see if his 9.27 would hold up to win the event. He took home $1,000 for his Saturday hourly winnings plus fully rigged Triton 18 TRX bass boat plus $5,000 cash.
There is a good story behind this winning bass. Vice caught the fish on a Zoom Brush Hog in about four feet of water. But the bite didn't come the conventional way. Vice's fishing partner was fighting a smaller bass to the boat and the big one was chasing it. When Vice saw the big fish in pursuit of the smaller one, he pitched his bait in front of it and the fish gobbled it up. His partner netted the bass in short order.
During the two day event, over 380 bass were weighed in totaling nearly 1,900 pounds. It took a 5 to 5 ½ pounder to get in the money.
Exact Weights-
Saturday 4.00- George Cox-Silsbee, Texas- $2,500
Sunday 3.00- Jansen Bourg- Houma, Louisiana- $2,500
Sunday 4.00- Kenneth Lamb- Spring, Texas- $2,500
In Sealy Outdoors events all cash and prizes are guaranteed. Because an even 3.00-pound bass was not brought to the scales Saturday, the $2,500 was given away in a random drawing during the awards ceremony. Taking home this extra money was Justin Parks of Etoile, Texas.
Raymond Due, Roger Parks, Andy Anderson, Keith Forsythe and Ryan Brumley were the lucky anglers drawn for the Famous Elimination Drawing. During the drawing, Pro Angler, Chad Morgenthaler, offered them each $1,000 to step down. Much to everyone's surprise and a very shocked Bob Sealy, all of the anglers accepted the $1,000 and Chad walked away with the boat. Everybody was a winner!
Joe Arena of Brookeland, Texas won the Open Drawing and took home $250 Academy Sports and Outdoors Shopping Spree.
The "Fall Shootout" featured a Sponsor Pro Invitational event with several big league pros on the roster. These Pros were invited to represent the Big Bass Splash Sponsors and they were challenged to fish for the one single big bass and weighed in hourly just like the amateurs. This was very interesting to watch these guys have to strategize of when they were going to weigh their fish in so they could win the $500 hourly prize.
Zell Rowland of Montgomery, Texas weighed in a 7.82 pounder and took home the Champion bragging rights along with $10,000 at the first ever "Fall Shootout" Pro Invitational.
 The 2017 Big Bass Splash "Fall Shootout" will be October 21 & 22. Hope to see you next year at one of our events and stay tuned to see which Pros will be at the "Fall Shootout".