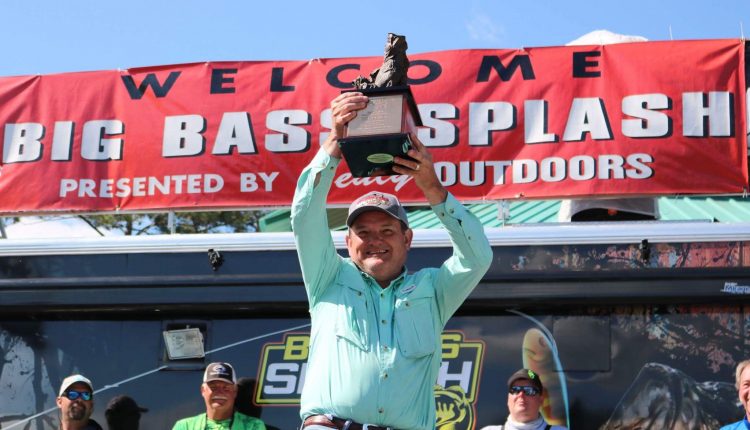 Lawrence Scott of Bossier City, LA wins the 33rd Annual Big Bass Splash on Sam Rayburn with a 9.57 lb bass on a Whopper Popper by River2Sea
Over 3,000 anglers fished this past weekend on Lake Sam Rayburn vying for their chance to cash in at the Big Bas Splash. $590,000 Guaranteed in Cash and Prizes with 15 places paid each hour of the event. Hosted at the Umphrey Family Pavilion, anglers and families from all over the country came to be a part of the experience and excitement.
Over the course of the three-day event, there were 826 bass weighed in for a total of 3,762.80 pounds. With 15 places paid each hour and added bonus card hours and T-shirt bonus hours, many anglers were not only satisfied with a great weekend of fishing, but with lots of extra cash in their pockets. A total of $171,150 was paid out to hourly winners. The overall top five anglers received additional cash and prizes.
Lawrence Scott of Bossier City, LA brought the heaviest bass of the tournament to the scales weighing 9.57 pounds. Lawrence weighed his winning fish on Sunday in the last hour (1-2 pm hour). For his catch, he won a 2017 Triton 21 TRX bass boat powered by Mercury, 2017 RAM Truck plus $10,000 in cash plus $1,500 for the hourly prize. A total package valued over $100,000.
2nd Place (9.45) Keith Kainer of Cypress, TX- 2017 Triton 19TRX powered by Mercury, 2017 RAM Truck plus $5,000 Cash.
3rd Place (8.73) Clay Carpenter of Joyce, LA- 2017 Triton 18TRX powered by Mercury, 2017 RAM Truck plus $2,500 Cash.
4th Place (8.51) Bruce Baggett of Huntsville, TX- 2017 RAM Truck plus $1,500 Cash.
5th Place (8.42) Brian Adams of Sour Lake, TX- $10,000 Cash
Exact Weights:
Each day, $5,000 is awarded for the first person to weigh in an 3.00/4.00/5.00 lb. exact weight bass. The lucky winners for this bonus were:
(Day 1)-
Gary Plant Jr. of Kountze, TX- 3.00
Raymond Farr of Pearland, TX- 5.00
(Day 2)-
Christopher Law of Lufkin, TX- 3.00
Willard Jones or Pipe Creek, TX- 4.00
(Day 3)-
Tony Marcantel of Liberty, TX- 3.00
Michael Lowery of Etoile, TX- 4.00
The $5,000 checks are guaranteed to be paid out, so the ones that were not claimed by catching the bass were put into an open drawing amongst all contestants entered into the event, but you must be present to win!
Three lucky anglers, whom who had not weighed a single fish won the remaining $5,000 by drawing of all of the paid contestants.
John Zanter, Jr of Mart, TX, Paul Squire of Spring, TX and Jonathan Dale Hargroder of Fred, TX was the lucky winners.
Elimination Drawing:
Michael Jason Davis of Jacksonville, TX won the famous "Elimination Drawing" by going for it all and being a gambler when it came down to him and one other person to win the 2017 Triton 189TRX bass boat powered by Mercury.
The Big Bass Splash, which is always a family affair, offers a Little Angler's Division of their own. Children ages 5-12 can sign up to fish and cross the weigh in stage with their catch showing it off to the crowd and proud parents. There are 3 places awarded in each category of bass, perch, crappie and catfish. The Little Anglers win Trophies and Medals along with Academy Sports + Outdoors Gift Cards.
The Big Bass Splash benefits St. Jude Children's Research Hospital and Bob Sealy presented Minerva Suarez, St. Jude representative, a check for $12,500 on Sunday during the awards ceremony.
A special Thank You to the Jasper Lake Sam Rayburn Area Chamber of Commerce for all of their support and assistance in making this year's event a success. We would like to thank our Corporate sponsors: Triton Boats, Mercury Marine, Academy Sports + Outdoors, Minn Kota, Lowrance, Okuma, River2Sea, Power Pole, Navionics, TH Marine, Weaver Motors of Kirbyville, TX, GP8 Oxygen Water, FireDisc Cookers, Vicious Fishing, Missile Baits, Vicious Vision, SIMMS, Texas Fish & Game Magazine
The next stop for the Big Bass Splash will be on Lake Toledo Bend Reservoir, May 19-20-21, 2017 at Cypress Bend Park; Many, LA.