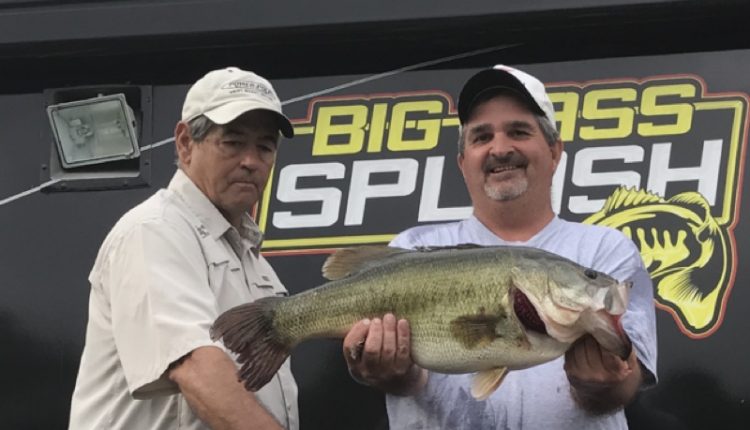 Williams Takes Big Bass Splash with Toledo Bend Lunker #410
By Renee Strickland/Daily News Toledo Bend
The 2017 Big Bass Splash on Toledo Bend was held at Cypress Bend Park on May 19, 20, and 21. Chad Williams of Fouke, Arkansas took the lead on day one of the tournament during the 8 a.m. – 9 a.m. weigh-in hour with a 10.86.  The bass Williams caught was tagged Lunker #410 in the Toledo Bend Lake Associations Lunker program. Meaning the fish had previous been caught and released.  Williams was able to retain his lead throughout the tournament. With over $490,000 Guaranteed in cash and prizes on the line Williams told tournament director, Bob Sealy, " It's been a long weekend of waiting," during the last twenty-three minutes of the tournament. Williams' prize package valued at over $100,000 included $3,000 for his hourly winnings, $7,000 Cash, a 2017 RAM Truck, a 2017 Triton 19 TRX powered by a Mercury motor. The Triton was equipped with Minn Kota, Lowrance, Navionics, and Power Pole.
 
Jerry Matney of Dewey, Oklahoma snagged second place with a 10.56 bass weighed in during the 8 a.m. – 9 a.m. hour of tournament day two.  An excited Matney said, "This is the first fishing tournament I've ever fished and I got to fish with my older brother," during the Sunday awards ceremony. The 10.56 lunker netted Matney over $80,000 in cash and prizes. Matney's prize package included $3,000 in hourly winnings, $2000 cash, a 2017 RAM truck, and a 2017 Triton 18 TRX powered by a Mercury, equipped with Minn Kota and Lowrance.
Dustin Boyt of Converse, Louisiana landed third place with a 9.33 bass. Boyt's snagged $1,500 in hourly winnings, $1000 cash and a 2017 RAM Truck.
Eric Williamson of Vidor, Texas placed fourth with a 9.26 bass. Williamson won the 12p.m. – 1p.m. bonus hour Saturday winning $3000. In addition to his Saturday cash winnings Williamson was awarded $8000 during the closing ceremony for a grand total prize package of $11,000.
Matt Miller of Jennings, Louisiana rounded out the top five with a 9.01 bass. Miller won $1,500 in hourly winnings and awarded $6,000 cash for total winnings of $7500.
Tammy Mong of Many Louisiana caught the first exact weight fish of the tournament on Friday during the 7 a.m. – 8 a.m. weigh in hour. Mong won $5000 for the 3.00 bass. An ecstatic Mong shrieked and danced around the stage as the scales hit 3.00. Bob Sealy, tournament director jokingly said, "Fisherman on the south and north end of the lake could hear Mong's celebration." 
Kreston Phelps of Winnfield, Louisiana closed out day one of the tournament with a exact weight 4.00 earning $5000.
Saturday, day two of the tournament proved to start off with as much excitement as day one. Shane Slaughter of Many, Louisiana weighed in a 3.00-pound $5000 bass during the 7 a.m. – 8 a.m. weigh-in hour, and Roderick Slayor of Prairieville, Louisiana caught a 5.00-pound $5000 bass during the 8 a.m.- 9.am. weigh-in hour.
Sunday, May 21, day three of the 2017 Big Bass Splash on Toledo Bend opened with as much anticipation as days one and two as anglers hurried to weigh in the first exact weight bass of the day.  Kenneth Lamb of Spring, Texas weighed in an exact 3.00-pound $5000 bass and Hayward "Scott" Smith, Jr. of Jonesboro, Louisiana weighed in an exact 4.00-pound $5000 bass during the 7 a.m. – 8 a.m. weigh in hour.
Clayton Fillyaw of Jasper, Texas held on to the very end of the famous "Elimination Drawing" taking home a 2017 Triton 189 TRX bass boat.
Mark your calendars for next year's event, May 18-19-20, 2018 on Lake Toledo Bend for the Big Bass Splash.
The Toledo Bend Lake Association awarded 72 lunker replicas during Sunday's closing ceremony. Two of the lunkers made the Top 100 Largest Bass caught on Toledo Bend list. The 2016-2017 Lunker Program year produced the third highest number of lunkers caught since the programs inception in 1992.
The Big Bass Splash events are considered to be the world's largest grassroots amateur big bass fishing tournament of its kind. Sealy Outdoors attracts thousands of amateur anglers to these weekend events. It's what we call "Fishing, Family and Fun" for everyone. A portion of the proceeds from registration fees will go to St. Jude Children's Research Hospital.
Sponsors includes Triton Boats, Mercury Marine, Academy Sports & Outdoors, Minn Kota, Lowrance, Okuma, Power Pole, Navionics, River2Sea, Texas Fish & Game, TH Marine, RAM-Weaver Motors of Kirbyville, TX, GP8 Oxygen Water, FireDisc Grills, Vicious Fishing, Missile Baits, Vicious Vision, SIMMS, Sabine River Authority and Sabine Parish Tourist Commission.