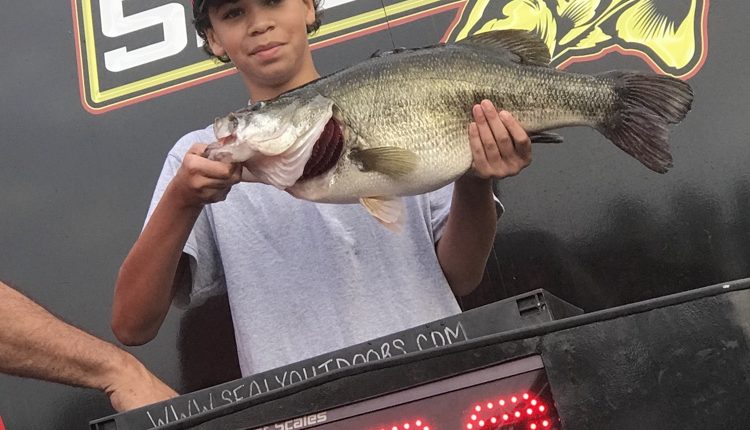 Jacob Sumrall Wins "Fall Shootout" with 9.60
Young Angler Proves Age Doesn't Matter To The Bass
By JoAnna Martin
Sam Rayburn Today/Toledo Bend Today Magazine
A young East Texas angler receives an early Christmas gift of a lifetime—decked out in red—when he took the winners seat in the 2017 Sealy Outdoors Big Bass Splash "Fall Shootout" held Saturday and Sunday, Oct. 21-22, on Lake Sam Rayburn, TX.
Jacob Sumrall, 12-years-old, of Kirbyville, made a dream come true when he hooked a largemouth bass shortly after the first hour of the Fall Shootout. But Jacob didn't know he had the winning bass until nearly a nail-biting day and a half later, and as Jacob puts it, "I was just about to start on my toes!"
The first day of the Big Bass Splash "Fall Shootout" started normal enough for the youngster and his fishing partner, his Godfather, Chad "Paran" Porto. Jacob explained that this was not his first Big Bass Splash event, it was, in fact, his fifth event, "I have been fishing it since I was eight-years-old." Jacob said he had fished all his previous Splash events in the Junior Angler Division and has won in some of those events. But this weekend was his first try at the Adult Division and Jacob believed that if you try hard enough, you have a good chance at winning. And it was his try-hard-enough attitude that proved to be the hook in a young boy's day of fishing that landed him a memory of a lifetime.
Jacob and Paran got on the water Saturday morning at the start of the Shootout tournament. He said they were fishing a short distance from the tournament site at Umphrey Family Pavilion in Jasper. The first hour of fishing for the pair went smoothly enough, but just into the 7 a.m. hour, things took a very big turn. Fishing in thick grass, at about 12-foot of water, Jacob said he felt heaviness on his fishing rod, "At first I thought I was hung up on something. Then, I felt it tug on it and it jumped out of the water!" The battle was on and Jacob describes the next few minutes as a test of wills in a man versus nature fight. "It jumped out of the water and started coming toward the boat." Jacob said Paran went for the net and tried to bring the fish in the boat, but he said, "It went down, and we didn't know where it went." The fish was gone. Then Jacob heard a splash on the opposite of the boat, "We realized the fish had gone under the boat!" Hanging on to his catch, Jacob said the fish was about 10-15 feet away from the boat and then the fish again swam toward him. It was a moment that will linger in the youngster's mind likely forever as he describes the dance-like motion he saw the largemouth bass perform that morning. Jacob describes with awe what he saw that day, "He (the fish) had his head up out of the water, and it was like it was walking!" But there was no time to think about it. Paran once again tried in vain to net the stealthy bass, the bass swims out again. Jacob, still hanging on to his catch, as Paran makes a third attempt, and this time the catch is landed, "We finally scooped him up!" said Jacob still feeling very excited about the catch, "It was 7:14 a.m." The duo did not have a fish scale to weigh the fish on, but Jacob knew this catch was much bigger than anything he had caught before. They had to get the giant bass to the weigh station. "As fast as we got it in the live well, and as fast as we got our life vests on, and as fast as we could we came in to weigh it in."
Back at the tournament site, Jacob is astounded, his catch is big, and it rocks the scales to at 9.60 pounds, putting Jacob in first place. "It was mind-boggling, I didn't think it would be that big!"
As the fishing hours on Saturday come to a close, Jacob remains unseated. Stormy weather swoops in on Sunday morning and the remaining tournament anglers work the lake hard for a winning bite. But there would be no others to move Jacob from his top seat. And on the final tournament day, it would be a twelve-year-old angler that loves to fish, just trying to improve his skills and compete with the big guys and gals, to take the win in the 2017 Big Bass Splash Fall Shootout.
Jacob said he caught his winning bass on a Carolina-rig, fishing a blue and green Senko. For his win, the angler took home a shinning red 2017 Triton 18 TrX boat powered by Mercury, plus $6,000 cash which includes the $1,000 payout for the tournament's heaviest bass.
Jacob said he has not made any plans for his cash winnings yet, "I'm still trying to comprehend all this!" But—spoken like a true angler—he said it was hard not to sleep in the boat the first night it came home. Jacob added that he thanks his fishing partner, Paran, for taking him fishing, "Without him this day would not have been possible."
Rounding out the top five in the tournament are Kurt Luker of Cleveland, with a 2nd place bass weighing in at 7.75 pounds, and winning $2,500.00; third place was won by Mark Richards of Houston, with a 7.71 pound bass, taking home $2,000.00; Owen Hinson of Lufkin, takes fourth place with his 7.67 pound fish and winning $1,500.00; coming in at fifth place was Bobby Amacker of Cypress weighing in a 7.64 bass, and pocketing $1,000.00 in the tournament.
Exact Weight winners in the Fall Shootout were Larry Davenport of Yellville, AR weighing in the 4.00 Exact weight bass on Sunday, Vickie Scott of Arlington, TX; Brian Miller of Hutto, TX and Alan Sandifer of Dry Prong, LA were drawn from all of the anglers since the Exact Weight 3.00/4.00 on Saturday were not caught and the 3.00 on Sunday. All Exact Weight winners received $2,500.00 each in prize money.
Keith Combs won the Pro Invitational with a 4.73 bass. Combs won $500.00 for the hour weigh-in and $10,000.00 for the Overall Prize. Several other Pros Anglers also fished the Fall Shootout including Stephen Browning, Josh Douglas, Luke Dunkin, Paul Elias, Chad Morgenthaler, Dave Mansue, Zell Rowland and James Watson.
There were 765 anglers that fished the tournament, and 331 bass were weighed in for a total weight of 996.5 pounds.
The Sealy Outdoors event benefits the St. Jude Children's Research Hospital and Bob Sealy, promoter of the tournament, presented Annie Smith of St. Jude's Children's Research Hospital with a donation check for $1,000 at the event.